Setting the Standard: Terex Aerial Work Platforms (AWP) manufactures some of the most advanced, highest-valued lift equipment in the industry. Distinctive blue Genie® lifts set the standard for performance and durability – not to mention support from people who understand your business.
Call 602-271-5600 and speak to our sales department for more information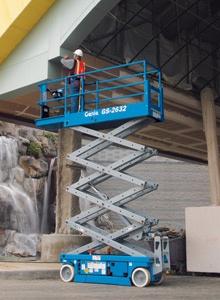 Scissor Lifts
Genie® electric and rough terrain scissor lifts offer you high performance and versatility — boosting work site productivity. Genie electric scissor lifts are exceptionally mobile, letting you maneuver in tight worksites. Plus, they're productive and efficient, providing increased workspace for larger loads and more workers. Genie rough terrain scissor lifts also enhance productivity by providing exceptional traction, speed and grade ability. They're the perfect machines for big outdoor jobs where platform workspace is critical.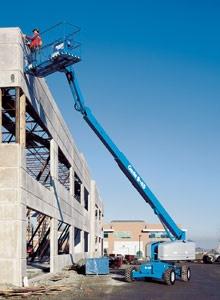 Boom Lifts
Get the reach and reliable performance you need to get the job done from Genie® articulating and telescopic boom lifts. Electric, hybrid, bi-energy or engine-powered – for indoor, outdoor or rough terrain applications – there's a Genie lift for every job.
Genie articulating Z™-boom lifts provide the ultimate in versatility with up, out and over positioning capabilities for hard-to-access work areas. Genie telescopic S™-boom lifts are engineered to enhance working efficiency and offer greater horizontal outreach than any other type of aerial platform. And all of our booms can be customized with a variety of options and packages to fit your individual job site needs.
Genie trailer-mounted Z-boom lifts feature an outstanding operating envelope, making them your best value to reach jobs high and low. Both the Genie TZ™-34/20 and the TZ-50 boom lifts feature the exclusive Genie Automatic Leveling System™ for self-leveling on any terrain, resulting in a faster setup that gets the job started – and finished – quicker. With easy-to-tow mobility and simple pictograph controls, it's no wonder that Genie trailer-mounted Z-boom lifts take productivity to new heights.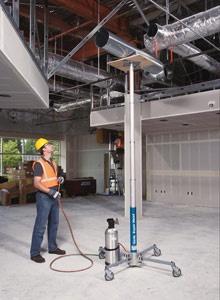 Material Lifts
Since the introduction of the original Genie® Hoist in 1966, we have been developing sound lifting products for the workplace. Genie lightweight, low-cost material lifts are designed to enhance your productivity with highly portable solutions for a wide variety of applications.
All Genie material lifts are easy for one person to set up, operate and transport in a standard pickup or service truck. Plus, a wide variety of options and accessories make them extremely adaptable to fit your specific needs. With sturdy construction and reliable performance, Genie material lifts are an excellent value for a virtually unlimited number of indoor and outdoor uses.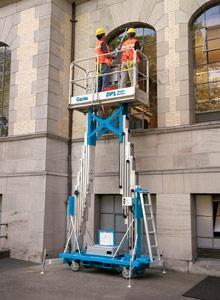 Aerial Work Platforms
Genie® aerial work platforms are easy to use and cost effective, making them the first choice for a wide range of applications. One person can easily set them up and get to work within minutes, providing the ideal all-around tool for almost any access application. Their light weight and compact size make Genie aerial work platforms convenient to use in schools, churches, warehouses and more. Genie aerial work platforms also provide solutions for interior work on large construction sites, like high rises, as well as being perfect for light-duty construction purposes.
Genie aerial work platforms are designed to enhance productivity in the workplace. Flexible features on the AWP®, IWP®, DPL® and Runabout® family models offer convenience at a low cost. Their lightweight construction makes them easy to maneuver, use and transport, delivering excellent uptime. Each model offers a variety of options and accessories to customize your machine. Genie aerial work platforms offer an economical solution for all your access needs.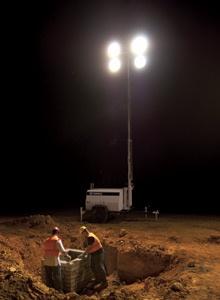 Light Towers
Terex offers a heavy-duty light tower to fit virtually any lighting need – from construction sites and sporting events to mining and oil field applications, and include a variety of features and options to help improve the productivity of each unit for your specific jobsite needs.
.